ONTARIO VIDEO & NEWS only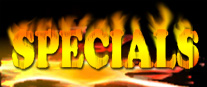 (this picture does not represent the dvds on sale)

YOUR CHOICE OF ONE OF THE FOLLOWING COUPONS
PRESENT COUPON AT CHECKOUT....
NO COUPON - NO DISCOUNT!!!!
NO refunds!


customer must have coupon present at check out coupons
NOT VALID ON FLESHLIGHT, HALO, JUUL or SMOK Brands
can not be combined with any
other coupon or special
one coupon per person per sale
NO RAIN CHECKS OR SPECIAL ORDERS

Take $20 OFF total purchase of $100 ++

Not valid with any other coupon.

one coupon per person/persale

GOOD AT OVN ONLY


ONTARIO VIDEO & NEWS

coupon excludes
FLESHLIGHT, Vaporizers

OR POD SYSTEM
OVN
40% off ONE E-LIQUID
with purchase of Vaporizer

NOT VALID ON JUUL OR Flavored PODS
no rain checks - no special orders

MUST PRESENT COUPON AT TIME OF SELL

ONE COUPON PER PERSON/ PER SELL

can not combine with other sale items
BUY any 2 E-liquid
GET $5.00 OFF

NOT VAILD ON JUUL OR BO PODS
NOT VALID ON SALE ITEMS

MUST SHOW COUPON AT TIME OF SELL
NO Rainchecks - NO specials orders

OVN ONLY
1 coupon
per sale
IN STORE OVN COUPON
You Choose ANY
SINGLE DISK DVD
REG $29 - 24.00
for
$19.95 plus tax

MUST PRESENT COUPON
LIMIT 2 DVD &
one coupon per sale
EXCLUDES NEW RELEASES

Must present coupon. Sale items excluded.
EXPIRES 12/31/2019
GOOD AT ONLY
ONTARIO VIDEO & NEWS